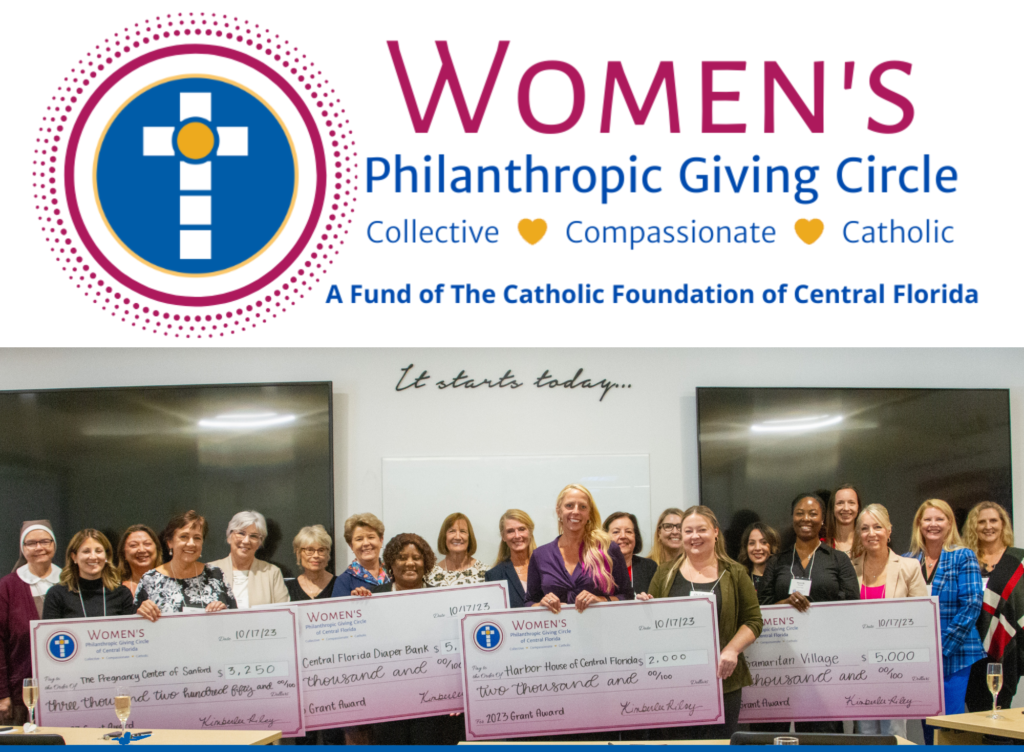 The Catholic Foundation of Central Florida is excited to launch this new strategic initiative! This diverse group women will altruistically serve with purpose, impact, connection and joy strengthening our community through values-based strategic, engaged and collective philanthropy. Taking inspiration from Mary, mother of our Savior, we proclaim "Yes" to God's call to active works of charity as witnesses of faith and hope. There are many benefits to collective philanthropy. In addition to multiplying gifts to achieve a greater impact, collective philanthropy offers a variety of advantages for Women's Philanthropic Giving Circle (WPGC) members:
Responding to Jesus' calling to serve others and bring the Church to its fullness of charity
Gaining a deeper understanding of issues our communities are facing
Combining resources, talents and interests for the greater good
Giving in purposeful and strategic ways
Connecting with women who care about making an impact and enjoying some fun and fellowship along the way!
How Membership Impacts Our Community Membership donations are pooled into the Women's Philanthropic Giving Circle Donor Advised Fund at The Catholic Foundation of Central Florida and invested for growth in a Catholic compliant investment portfolio. Funds are distributed to address community needs through our annual grant-making process. 501c3 nonprofits operating within the nine counties of the Diocese of Orlando can submit a grant application. The nonprofit must meet Catholic compliant eligibility requirements to receive funding through The Catholic Foundation of Central Florida's Women's Philanthropic Giving Circle initiative. Members actively participate in the grant selection process. $50 of each membership will be reserved to cover administrative and meeting expenses. At the end of each fiscal year, any remaining funds held to cover expenses will be deposited into the WPGC DAF. Membership Options Women of all ages and giving levels are invited to join! To engage this diverse group of women, three annual membership levels are available:
$1,000+ St. Anne Membership – (This level provides $500 for the new Women's Philanthropic Giving Circle Endowment to sustain and supplement WPGC's ongoing legacy of impact in our community.)
$500+ St. Elizabeth Membership
$250+ St. Mary Membership – (Available to women under 40 years of age.)