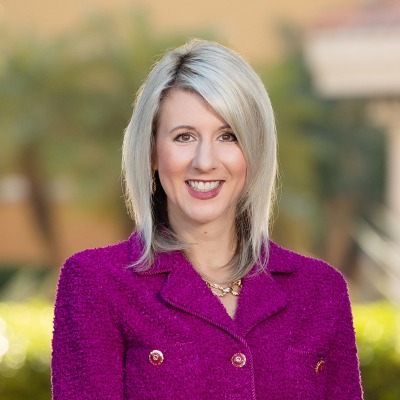 Karen Monteleone
Member
Most Precious Blood Catholic Church, Oviedo
Karen Monteleone is an accomplished board and community relations executive with extensive experience building relationships that ensure organizations excel in their missions, especially during times of significant change. For nearly two decades, Karen has worked with a diverse range of community leaders, C-suite executives, and other influential volunteers to help advance the goals of the institutions they serve.
She most recently served as Assistant Vice President for Board Relations at the University of Central Florida, where she managed the university's 13-member Board of Trustees responsible for policy decisions, performance, strategic planning, and fiscal management for one of the nation's largest universities. Karen oversaw all board operations and worked directly with each member on the board's activities, engagement, and
philanthropy, drawing from her volunteer leadership with the Association of Governing Boards of Universities and Colleges (AGB) and proven experience in community and corporate relations and leadership and development programs.
Karen served as the primary staff liaison to the UCF board during its national presidential search in 2020, innovating new ways to virtually introduce candidates to the campus community in the early months of the pandemic. She also facilitated the board's involvement in and adoption of a new five-year university-wide strategic plan to help UCF become a top 25 public research university.
An empathetic leader and a builder by nature, Karen has improved transparency and communication essential for effective and informed decision-making in every role she has had. Before working with the UCF Board of Trustees, Karen served as the director and primary relationship manager for the university's Foundation Board of Directors, where she provided strategic counsel to the Foundation CEO, executive leadership team, and board leadership and increased board engagement and philanthropy during the university's $531-million IGNITE campaign. She has shared many of her successes in board member recruitment, advocacy, and fundraising, along with her passion for volunteer management, as a speaker for the Council for Advancement and Support of Education (CASE) and AGB.
Karen began her higher education career at the UCF Alumni Association serving in several roles involving membership, student development, and college-level alumni relations programs. She has a background in
marketing and previously worked for the Orlando Sentinel and YMCA of Central Florida. Karen is past president of the American Marketing Association of Orlando and has served in multiple community board
positions, including on the boards of directors for the Women's Club at UCF, Rotary Club of Oviedo, YMCA of Central Florida, and The Catholic Foundation of Central Florida. Currently, Karen is spending time raising her family and serving her community through a variety of volunteer activities.
Karen lives in Oviedo with her husband Anthony and two sons Luke and Michael. She holds a bachelor's degree in advertising and public relations and a master's degree in educational leadership from UCF, and she is a graduate of UCF's Leadership Enhancement Program.