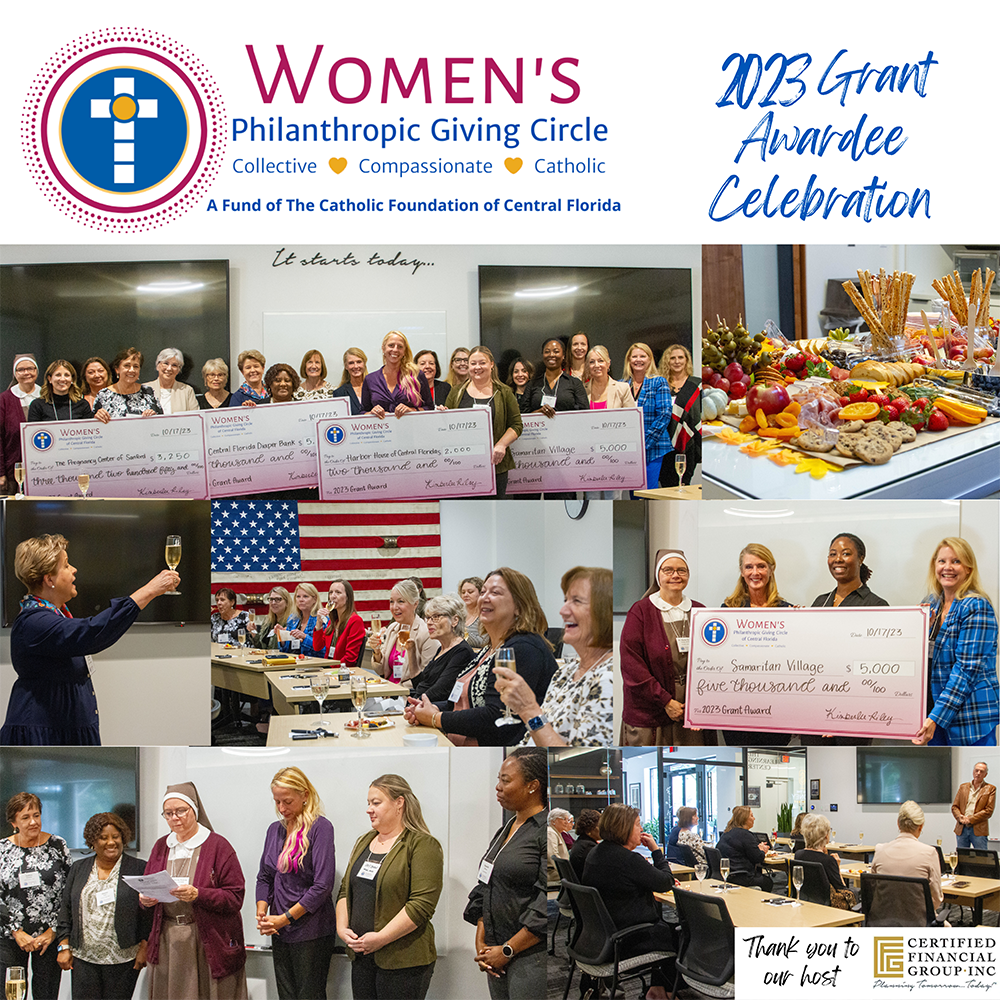 Through the collective philanthropy of its 32 founding members, the Women's Philanthropic Giving Circle (WPGC) was blessed to distribute grants of $15,250 to four organizations doing extraordinary work in our community at their inaugural Grant Awardee Celebration hosted by Certified Financial Group. WPGC chair, Lori Tolland, announced this year's grant awardees:
Samaritan Village received a $5,000 grant for their Hope and Healing in the Village Program. Samaritan Village exists to provide a safe place where sexually trafficked women can heal from trauma, recover from addiction, and reclaim their lives to become catalysts for change in their communities. Samaritan Village offers a long-term, trauma-informed, and holistic care model of rehabilitation for survivors. Their vision is to see communities where women live free from sexual exploitation, finding restoration and wholeness in Jesus Christ.
Central Florida Diaper Bank received a $5,000 grant for their Diaper Distribution and Parent Educational Workshop Program. Central Florida Diaper Bank advocates and encourages healthy growth, nutrition and development for children from newborn to age three. They promote self- sufficiency for parents and their children who are at risk due to circumstances beyond their control by identifying their needs and providing the appropriate resources.
The Pregnancy Center of Sanford received a $3,250 grant for their Out of the Valley: Intentional Healing from Post Abortion Grief Program. Their centers exist to offer women alternatives to abortion by modeling the love of Jesus Christ through compassionate lay-counseling and the resources to empower her to make a life-affirming decision. Their post abortion recovery program is an 8-week program to address the very real grief associated with abortion. The Pregnancy Center of Sanford provides women who have experienced abortion(s) a place to uncover barriers holding them back, develop coping and healing skills as well as prepare their heart and mind for a productive future.
Harbor House of Central Florida received a $2,000 for their Emergency Shelter Food Pantry Program. Harbor House strives to prevent and break the cycle of domestic abuse through empowerment-based programs, advocacy, education, and community involvement.
After the grant checks were awarded, Sister Maria Teresa Acosta, SCTJM, the group's spiritual advisor, offered a prayer of blessing over the leaders of the four grantee organizations.
Donations from WPGC members have also helped build an endowment to sustain and supplement the group's ongoing legacy of impact in our community.
Founding Members of the WPGC
Yvette Acevedo
Debbie Balaschak
Niki Bendix
Kelly Bert
Margaret Curran
Lynda Dennis
Diana Garcia
Mary Gmach
Rosemarie Grebe
Nia Herald
Kathleen Kiley
Amanda Livermore
Sarah Luter
Barbara Malkus
Ultima Morgan
Lisa Meier
Caroline Molins
Kelly Ordonez
Elizabeth Oros
Jody Orosz
Zeynep Portway
Kimberlee Riley
Theresa Simon
Sally Studlo
Marta Sweeney
Valerie Swets
Wendy Thomson
Lori Tolland
Joan Van Lancker
Cathy Weite
Patricia Welter
Erika Wikstrom
If you are interested in joining this diverse group women who altruistically serve with purpose, impact, connection and joy strengthening our community through values-based strategic, engaged and collective philanthropy, please contact Madelyn Weed, CFRE, CAP at (407) 246-7188. You can find more information about the WPGC at: www.cfocf.org/womensgivingcircle